Is it going to be a gift for someone?
If you would like to get familiar with our props and all the options we offer, continue reading below ⇓
Museum or a static aircraft?
I advice to get in touch by email or our contact form. We are able to manufacture the exact prop you need.
Airworthy prop?
Send me your requirements and technical details by our contact form.
We manufacture props for sport and experimental aircraft.
How to configure your own decorative propeller
Type
Each type of a propeller has its unique shape. The shape used to give the prop its special characteristics.
Our props are accurate reproductions of original models from particular airplanes, we don't sell low-quality products.
Scaled props still have the right proportions.
Length
Propellers below 150cm / 59 inch look more like they came for a model airplane. It may be an option if you don't have enough space or you are searching for a minimalistic item.
If you choose somewhere between 150cm and 200cm (59 inch – 79 inch), you will make a good compromise. They are cheaper than full size props and look great. The length is already enough to believe it is a real aircraft propeller.
Full size props span from 233cm / 92 inch  to 273 cm /107 inch. These wooden props look best in their full size. The weight is usually between 10-15kg.
Material
The kind of lumber has a major impact on price. View the enclosed photographs for comparison.
Mahogany is the authentic material for most props, except the Fokker DR.I/D.VII.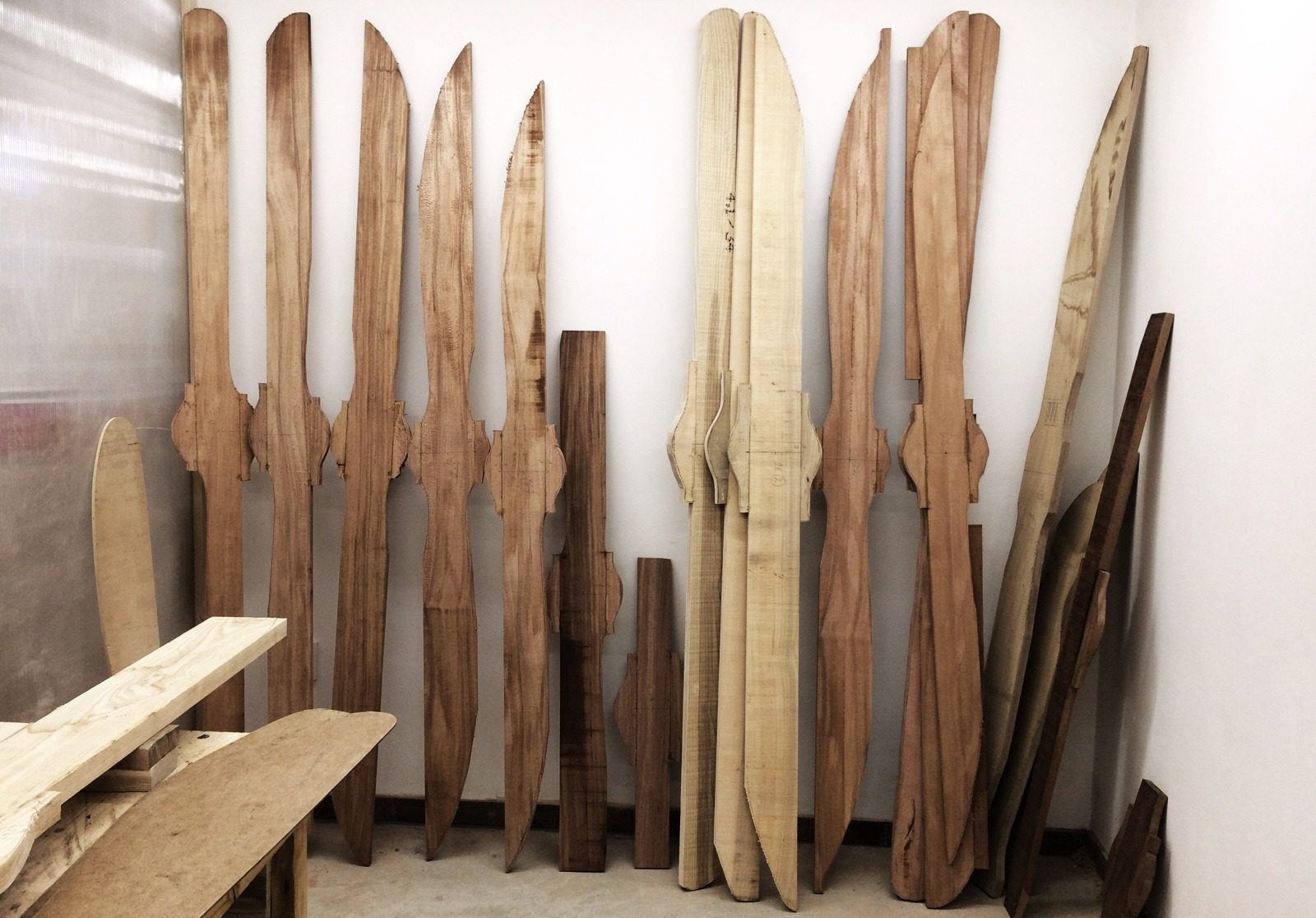 Surface treatment
Stain or not?
The ash lumber may be stained. Using the stain I can reach mahogany or brown shade of the wood. Even two-colored props may be lightly stained. I don't recommend using stain for mahogany lumber.
Patina?
If you're looking for a distressed look of the prop, patina is the way to go. The patina looks best on stained ash lumber. I don't recommend applying patina on two colored and mahogany propellers.
Glossy or matte?
Glossy finish – it's a polyurethane glossy varnish with UV protection.
Satin finish – polyurethane satin (semi-matte) finish with UV protection.
Patina – if you choose the patina, it already includes the polyurethane coat under the final layer surface treatment.
Simple hub
Maybe you will need to attach the prop on the wall? The hub consists of bolts, nuts, washers and wall plugs, which will firmly hold the prop in place.
In combination with patina, the visible nuts and washers in the center section will also get a distressed finish.
Sheathing
Brass sheathing
The original purpose was a protection against small particles which damage the leading edge. We manufacture it the same way it was done one hundred years ago, with modern tools. The shaped brass sheets are soldered and riveted to the blade. Each type of sheathing is based on a photograph or drawing of the original propeller.
Fabric sheathing
It's available at the Sopwith propeller. It had the same purpose – to prevent small particles from damaging the leading edge.
Continue to the product page
Now you are ready to use the calculator. Each of the options above are results of our own research, studied techniques and years of experience. Every prop is an authentic copy of the original model while you can give it your own and unique look.
Václav Stržínek
Drahanská 4
68201 Vyškov
Czech Republic
Central Europe
Historic Propellers
ID: 04926196
Estabilished in 2012
Registered in the Czech Republic
vaclav.strzinek (call 8-16 CET)
facebook.com/HistoricPropellers
Historic Propellers | © 2012 - 2020 . All rights reserved.